My two year contract with Three has come to an end so I've decided to stay with them and upgrade my mobile phone. I've previously written about how simple Nokia phones were great, how modern smart phones are too complicated and how they consume too much battery power.
These are aspects that I've taken into consideration when choosing a new mobile phone, which will be with me for at least the next two years.
I chose an iPhone 4S. I chose this because I like gadgets, everyone seems to have one and I felt like I was missing out! I thought I'd quickly write about the whole upgrade experience.
Three were the first 3G network in the UK and as such, the first network to offer video-calling. This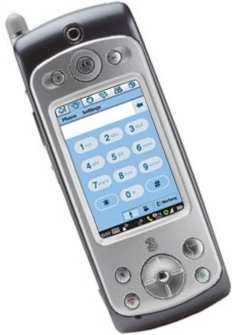 was more of a gimmick than anything else but they had packages that offered a small amount of inclusive video-calling minutes. I knew a few people who were also on Three and as there was still lots of hype about the network, I joined them in 2003. The phone I had was the Motorola A920 (pictured right) and it was a beast of a mobile phone- I still have mine in a box somewhere in the loft!
Other mobile phones from this time had already begun to get quite small yet the 3G phones that Three provided were quite large and unsightly. The Motorola A920 came with a 32MB memory card, which was quite impressive at the time, and with 2 batteries. It also came with a stand, which would charge both the phone and the spare battery at the same time. As I used the phone to listen to music a lot at work, the spare battery came in very handy.
The novelty of video-calling soon wore off and the coverage issues with Three began to become more than a little inconvenient. If I recall, Three used to use the O2 network to piggy-back on when you were in an area of poor coverage, but the transition between the two networks meant significant time without a signal at all. Some of my friends left Three for this reason and I followed suit when my contract was up- I vowed that I would never use Three again.
Two years ago, my contract with T Mobile had ended. I had been quite happy with T Mobile and would have stayed with them, but near the end of my contract they made a series of monumental mistakes, gave incorrect advice and took nearly £500.00 from my bank account, despite promising that this figure was incorrectly calculated and that the correct amount of only around £40.00 would be debited.
I had a look around at all of the main networks and because I use mobile internet a lot, Three were quite appealing as they offer some attractive internet bundles. I joined Three, got a Nokia E71 and was paying around £20/month. When this two year contract ended last week, I had a look around again but Three were offering the most attractive packages overall. I was already slightly intrigued by the iPhone, so I thought I'd ring Three and see what I could get out of them as a 'loyal customer'.
Usually, I'm quite good at haggling and getting the best deals but I found Three to be very unwilling! In the end, I reduced the up-front cost of the iPhone 4S 16GB by £40.00 (I've since noticed that the upfront price has been reduced online anyway), got 2,000 Three-to-Three minutes included and got a free Home Signal box. All of this costs £33.00/month.
The Home Signal box was mentioned by the advisor at Three. As part of my uncertainty about staying with Three for another 2 years, I shared my concerns about the signal quality at home, hoping this could be used as leverage. The truth is, the signal quality is absolutely fine at home, but there have been perhaps 3 periods during the last 2 years whereby Three were experiencing temporary problems or the masts in my area were being upgraded, resulting in a weak signal for perhaps a few days each time. The Home Signal box plugs into a spare ethernet port on your home router (most of us have one) and when the Three signal is weak, the mobile phone will connect to this and utilise your broadband connection so that you can make calls or send/receive text messages, using your internet connection. Apparently, new customers have to pay £156.00 for the Home Signal box, but after looking at some forums, it seems that Three will provide these to people who experience poor signal reception at home. I don't see why anyone would join a mobile network, realise that the signal reception was rubbish and then fork out £156.00 just so that they could use their phone.
My iPhone and Home Signal box arrived the next day. The Home Signal box wouldn't work and the light on it would flash red 5 times at a time. It uses a little smart card (like a SIM card) and it turns out that 5 red flashes mean it isn't inserted properly. I checked this out and it had been inserted back to front. I switched it around, clicked it in and before long, the Home Signal box was displaying a solid green light, which is what is should be doing when not in use. When a Three mobile phone is connecting via it, the light flashes green- only Three mobile telephone numbers that you register for your Home Signal box can connect to it.
The iPhone came in the smallest of boxes and was very well presented. I took it out, peeled off the protective film and turned it on. To initially set it up, you need to have a wifi connection. My wifi is set up to accept authorised wireless devices, based on their MAC addresses. Because the iPhone MAC address isn't on the box and because you can't find it out from any system settings at this stage, I had to log into my wireless router and disable MAC address filtering. Once this was done, set up was completed and I had use of the iPhone.
I'd already ordered a silicone case and screen protector from Amazon and these items arrived
the day after the iPhone. These cost less than £5.00 (including postage) and in my opinion are a worthwhile investment. You can see the silicone cover in the photo on the right.
I've never used a screen protector before but know that they can be notoriously difficult to put on neatly. I used a glasses lens cloth to wipe all of my fingerprints off the screen with before blowing over it to remove all of the dust. With a steady hand, I applied the screen protector absolutely perfectly. Not a bubble and not a speck of dust stuck underneath if forever. It's also perfectly straight, so I'm incredibly happy with this!
Right, the phone itself. This post was supposed to be a review of the iPhone 4S, but so far it's been anything but- I apologise for this. I tend to get distracted.
I don't like the weather app and the stocks app on the phone. I'm not interested in stocks and shares and if I want to know about the weather, I'll look out of the window. Unfortunately, there's no way to remove any unwanted apps.
I used to use Linux on my PC, which I find nicer to use than Windows. However, to be able to put music on the iPhone, you must install iTunes on a PC or Mac. With every other mobile phone I've owned, I've been able to plug it into any PC and it will show up as a storage device. You then drag music to the 'music' folder and that's it. The iPhone doesn't work in any such way. I spent several hours on the internet trying to find out how I can find a Linux iTunes equivalent but there just isn't one. A phone without music on it is useless, so I was forced to reinstall Windows on my PC. I have since installed iTunes and everything works perfectly- I now have music on my phone.
Customising the ringtones/alerts on the iPhone seemed to be impossible. This was another disappointment for me. Whilst you can select a different ring tone for each contact, you can only choose from what's available on the iPhone and you're not exactly spoilt for choice. Another alternative is to purchase ringtones from iTunes- I don't very much like this idea.
After some research, I found that there is a way to place custom ringtones on the iPhone- hurrah! You need to download a little program called Audacity. Open up the required .mp3 file that you want to use as a ringtone- the length of this cannot exceed 30 seconds, so you'll need to crop it and select the relevant section using the tools in the control bar. As my .mp3 ringtones were 30 seconds long or less, I didn't need to play around with these settings so can't tell you how they work- you'll need to play around with them yourself!
Once you've got your file to the right size, click on 'File' in the menu and select 'Export'. You'll be given a choice of different output formats- choose M4A/AAC and save this file on your PC. Locate the file in it's saved location and rename the extension of .M4A to M4R (which Apple recognise as a ringtone format). Once you've done this, open iTunes and drag any .M4R files into your music library. A new folder named 'Tones' will be created. When you connect your iPhone, drag these new tones over to it and they will now appear within the selection menu on your iPhone when you want to choose a new ringtone. Simple yet effective.
The battery on the iPhone 4S is bad- really BAD! I used to have an Android phone which would need charging every single night. In fact, if I used my Nokia E71 heavily during the day, I'd have to charge that every night too. But, with the iPhone 4S, you can literally see the battery drop 1% at a time as you use the phone- this is especially apparent when using Twitter or the Safari web browser. I've searched all over the web for a solution and have found plenty of similar stories as well as many suggested solutions. I tried many things (mainly tweaking the settings) according to information found online and I believe that I've finally found the solution. I'll come to that in a bit. In the meantime though, as a precaution, I bought a
portable battery recharger from Amazon for £20.00 (including postage). It comes with a variety of different mobile phone connectors and a USB cable, so when your battery is running a little bit low, you just plug this into it to give it a charge. I've tried it out on a Nokia C3 and the iPhone 4S and it seems to work perfectly. I didn't give either mobile phone a full charge because I don't want to use it unnecessarily. What isn't mentioned on Amazon and which is mentioned on the packaging, is that this device is only good for around 500 charging cycles. This isn't terrible when you consider this is probably equivalent to charging your mobile phone regularly over a 2 year period, but I still think it should have been mentioned in the product description. The only other slight disappointment is that it comes with an American power adaptor, which the included USB lead plugs into. I've got countless UK USB power adaptors, so this isn't a problem for me. I think that most mobile phones come with one of these nowadays anyway.
One of my favourite features of the iPhone 4S is Siri, the virtual assistant. There's been a lot of whinging that Siri cannot use location services in the UK, despite this being used as an example in the UK advertising on TV. However, with the Find Friends app, you can locate your friends and family by asking Siri.
Using Siri to send a text message or set up a new meeting/appointment is a breeze- Siri understands what you're saying very well. Siri also has a sense of humour- if you Google "funny Siri questions" you'll receive many funny results. My favourite Siri command is "open the pod bay doors". I won't tell you what the responses will be because this will ruin the surprise, but I can tell you that this is in reference to Space Odyssey:2001.
Going back to the battery issues I mentioned earlier, one of the suggestions to improve battery life was to entirely deactivate Siri. Siri can be activated in two different ways; you can simply hold the iPhone 4S to your face or you can press and hold the home button. I tried deactivating Siri (which is pointless because this is one of the main features of the iPhone 4S) but after trying out different things, I can confirm (for me anyway) that this isn't necessary and doesn't appear to have an effect on the battery.
Obviously, if you deactivate any location-based services and push-notifications, you will save some battery power. I personally found that if I disable the Ping service, (some sort of social media service), disable Siri phone-to-face activation (I'm assuming this works by sending out a signal when the phone screen is on, to detect whether or not your face is there) and contact syncing to iCloud, my battery lasts MUCH longer. iCloud is an Apples service that backs up all of your data on the fly but I've read on several forums that the contact syncing bit can cause problems. Disabling these features has drastically increased my battery life and I haven't lost out on any iPhone 4S benefits. I regularly back my phone up to my PC and I use Google as a Mail For Exchange, which keeps my contacts and calendar synced to Google anyway.
iMessage is pretty cool. I didn't quite understand this at first, but now I've grasped it. Any iMessage you send is free and doesn't come out of your text allowance. You can send iMessages to other iPhone/iPad users; these can be sent to individuals or to a group. When a group message is sent, all members of the group can see the replies and participants.
iMessages are sent from the normal in-built messaging app. When you create a new message and add a recipient, the recipient's name will appear in a blue bubble and the text input field will show "iMessage" in it if the recipient uses iMessage. If the recipient's name appears in a green bubble and the text input field shows "Text Message", the message will be sent as a normal text message and will come out of your text message allowance. If a recipient has an iPhone and an iPad, you can send an iMessage to both of their devices by sending the message to their registered Apple account email address. You can also change the settings and register more than one email address to appear in the "sent from" field, meaning that your iMessage can be sent from your mobile number (if sent from your iPhone) or from a separate, confirmed email address.
FaceTime is video calling between iPhone and iPad users when wifi is used. You can use the camera on the front of the phone or switch it so that it uses the back camera. It's not something you would use very often, but it works well all the same- the picture and sound quality is brilliant.
The apps available for the iPhone are really good- much better than for Android. I use a couple of mobile banking apps which work very well- making Faster Payments is so simple. I can also use the Virgin Media app to see what's on and record shows on my Tivo box, all remotely.
Overall, the phone works very nicely. The screen is responsive and there's no lagging a all, but I can't ignore the fact that the iPhone 4S just isn't as flexible as other smart phones and that the battery is built-in. If the battery needs replacing, you have to take the mobile phone to Apple. The iPhone 4S (around £700.00 for the 64GB model, SIM free) is very expensive for what it is and you have to rely on Apple software to listen to your music. Yes, there are some very nice features and I do like my new mobile phone, but when my contract finishes in 2 years time, I won't be desperate to get my hands on the latest iPhone.